Satsang and meditation with Swami Janakananda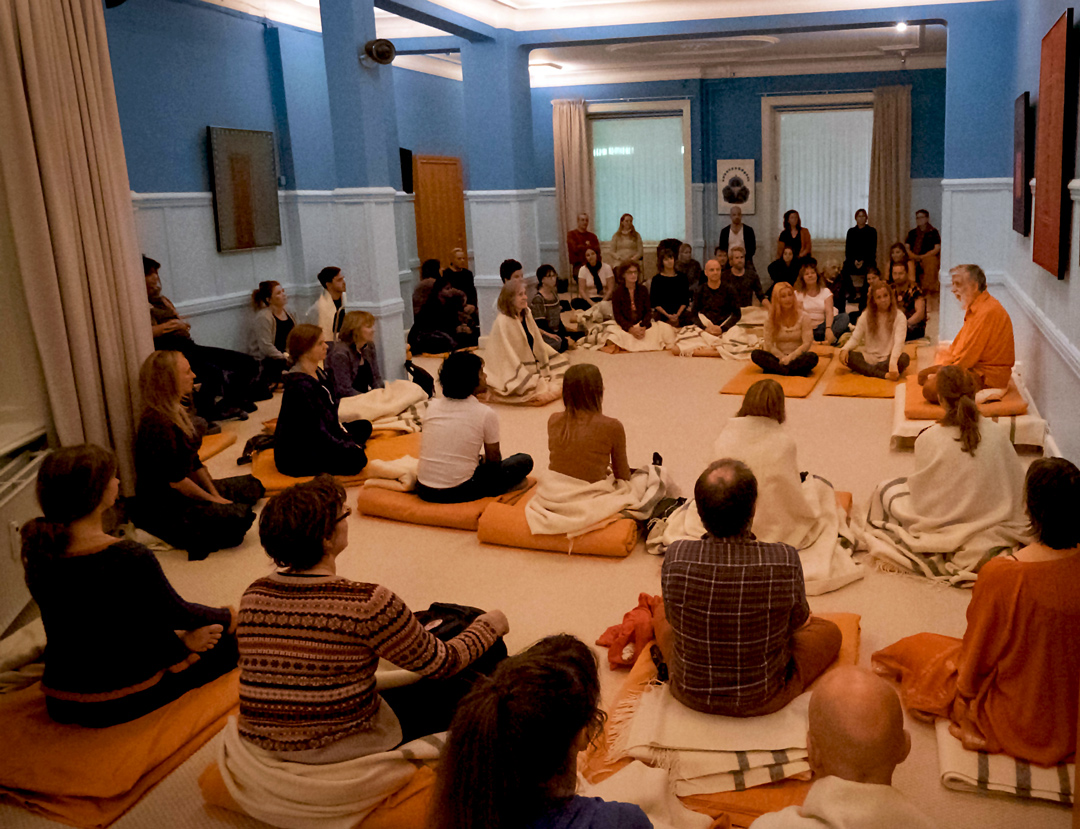 Friday 14th June,
19:00 - 20:00 Kirtan,
and 20:15 to about 21:45 Satsang,
in Scandinavian Yoga and Meditation School, Købmagergade 65, near Nørreport station and Kultorvet. Entrance 50 kr.
Swami Janakananda, the founder of Scandinavian Yoga and Meditation School, 
  holds Satsang (talks on yoga and meditation)
and guides a meditation.
The same evening before the satsang you are welcome to participate in a  Kirtan – music and mantra-song with Swami Ma Sita.
  Welcome to an inspiring evening in Købmagergade 65!
Satsang – talks on yoga and meditation with Swami Janakananda
Ask questions or just listen to Swami Janakananda's interpretation and answers about classical yoga and tantric meditation. The evening will end with a guided meditation.
"The mystic experience remains the same from culture to culture, from age to age, everywhere on Earth. It is based on a search, on methods and on real experience." (Swami Janakananda)
"Behind much of yogic philosophy, behind much occult talk, behind much doomsday preaching and sectarianism, there is often a desperate desire to be somewhere else, to get away as soon as possible to something other than the present. People talk of "the spiritual" and "the other side", but where are you in all this, where do you find peace?

(From Swami Janakananda's book Yoga, Tantra and Meditation in Daily Life).
Swami Janakananda also gives a 3-week meditation course, (eight evenings) in the period from 3rd - 20th June 2019, 19:30 – about 21.30.
Swami Janakananda Saraswati is the founder of the Scandinavian Yoga and Meditation School and Håå International Retreat Center. He is the school's educational leader and the architect of the retreats at the Retreat Center, where he also lives and teaches.
For more than four decades, Swami Janakananda has provided an exceptional, comprehensive and deep reaching training for yoga teachers, and has initiated countless students into Kriya Yoga and other higher practices. At the same time, he has supported several scientific research projects into yoga and meditation. He is known to consistently observe the tradition, by preserving yoga and meditation in its original form, and not yield to the fads and modern trends that go under the name of yoga today. Through the years, this attitude has attracted many seekers of the authentic methods.
Read more about Swami Janakananda or his articles in the Reading Room here on the web; for instance:
Harmony between the Experiencer and the Experienced
- On the tantric meditation Inner Silence (Antar mauna) - its ancestors and cousins. A pearl of a meditation - at once the most fundamental and the most advanced. It begins with methods that make you independent in relation to influences - inner as well as outer.
«Say the troll's name, and it disappears», goes the old fairy tale. The teacher's most noble task is to awaken the student to be able to experience. Perhaps the most liberating and healing capacity we possess.
For the first time, Swami Janakananda tells about the knowledge and the methods in Tantra. What is behind the tantric rituals and what makes Yoga Nidra so uniquely effective and deep among relaxations? About Nyasa, Chakra, consciousness and the resolution in Yoga Nidra.
Kirtan - music and mantra song with Swami Ma Sita
Meditative songs from the Indian kirtan tradition.
"Taking part in kirtan and dance increases the awareness of who you are and, with meditation, it can open the door to your innermost identity."
(Swami Ma Sita Savitri, in "The power of music, song and dance".)
Swami Ma Sita Savitri has - apart from her musical background from her upbringing and education on Iceland - the leadership of the daily yoga teacher training at Haa International Retreat Center in Smaland, South Sweden, where she also teaches on the retreats. She is an excellent singer and often leads evenings of song and dance on the longer retreats at Haa.
See also: